CASA BALOO (Basic Adult Leader Outdoor Orientation)
November 11 @ 8:00 am

-

November 12 @ 1:00 pm

$60
幼童軍家長戶外活動訓練
歡迎參加由美華童軍協會CASA(Chinese American Scouting Association)和幼童軍Pack 485共同舉辦的貝魯(BALOO)中文戶外活動訓練課程。
美國童軍總會(BSA)規定所有幼童軍進行外宿或露營時,至少要有一位已經參加過貝魯(BALOO)訓練的大人帶隊方可成行。
在10/15/2023之前報名並完成課程者可獲得CASA BALOO 徽章一枚。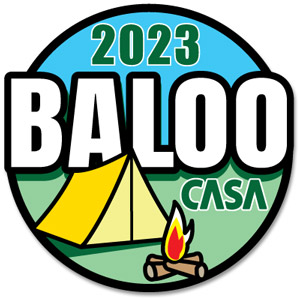 Location: Camp Chesebrough
Registration fee $60 by 10/30/2023
**NO WALK-INS
Fee includes meals and handout materials
Cubscout Outdoor Training
BALOO teaches leaders skills needed to carry out a Pack successful family/Den campout. BALOO training is required for at least one adult leader of a Pack to do overnight camping as a part of the Pack's activities. At least one adult who has completed this course must be in attendance at any Pack or Den overnight activity.
(Register before 10/15/2023 and receive a CASA BALOO patch upon course completion.)
課程要求
貝魯課程分為兩部分:
1. 網路課程 (35分鐘) Online Prerequisite
所有參加BALOO訓練的家長都必須完成網路上的訓練課程(35分鐘),可以對訓練課程及童軍活動有初步的了解。BALOO 的線上課程可以透過my.scouting.org 來完成。下面是如何參加網路課程的說明:
2. 戶外訓練 Outdoor Training
貝魯(BALOO)戶外訓練課程為期一天半,課程內容包含童軍野外聚會的升旗方式、搭帳篷、露營、烹飪、衛生安全、露營裝備選擇、用刀、用火、鋸樹工具的使用安全及營火晚會籌備計畫等。
BALOO戶外訓練課程包含一個晚上的野外露營經驗。這個季節有可能會下雨,請準備禦寒衣物及耐寒的睡袋。學員不需要帶烹飪炊具,但是需要帶餐具(mesh kit)。
星期六的午餐是訓練課程之一,由學員自己學習烹調,我們會提供食材跟工具。星期六晚餐跟星期日早餐由營會提供。
本課程歡迎幼童軍團的所有家長們參加,如有任何疑問,請聯絡營主任 Sam Ting (samuelting@yahoo.com).
Course Requirements
This course has two parts. The first is available online and the second part is the outdoor experience.
1. Online Prerequisite (35 min)
The online component must be completed before attending the outdoor part of Baloo training.
The online portion is available through the BSA Learn Center (my.scouting.org).
For detail instruction in completing the online prerequisite, click on the link below:
How to complete BALOO Prerequisite (PDF)
2. Outdoor Training
The outdoor portion of the training will be held on Camp Chesebrough from 11/11 – 11/12/2023.
You need to arrive and check in by 8 am on Saturday, 11/11. The course ends at 11:00 am on Sunday, 11/12.
This training includes an overnight camping experience. As cold weather and rain are common during this time of year, make sure you bring sufficient clothing and warm sleeping bags. The training will cover instruction on campfire management, camp setup, cooking, sanitation, camping equipment selection, knife safety, fire safety, first aid, and the proper use of wood tools.
No need to bring any cookware or food to camp but you do need to bring your own mesh kit.
For more information, please contact Sam Ting at (408) 981-9126 or via email at samuelting@yahoo.com
Limited Space Available
REGISTRATION NOW OPEN: