Why Sell Popcorn?
POPCORN = PROGRAM! Fund all your program-related expenses and activities you want your Scouts to enjoy this year, through popcorn. Things you can pay for with proceeds from popcorn:
| | | | | |
| --- | --- | --- | --- | --- |
| Yearly Membership Dues | Scout's Life Magazine | Uniforms, Patches, and Awards | Meeting Supplies & Equipment | Blue & Gold Banquet or Derby |
| Camping Trips | Hikes | Holiday Parties | Pinewood Derby | Much More! |
Powered By Popcorn! Here is your Popcorn News!
Online Sales The single, safest way for a Scout to sell popcorn in 2021 is through the Online Direct Sale method. This method eliminates any face-to-face contact with the general public, as well as the risk of handling product or cash.
The Online Direct sale is also the safest and easiest method for units, in that there is no handling of product, since popcorn is shipped directly to consumers, and payment for popcorn is received by credit or debit card at the time of the order. 
Show & Sell your den, pack or troop gets permission to sell in front of a retail store or in the local mall.  You set up a display with products for people to purchase as they walk by.
Take Order the most traditional way to sell popcorn; going door-to-door with the take order form, which you receive from your leader or council.
Show & Deliver you carry Trail's End popcorn with you to show to your customers as you visit them.  The customer is able to select the products he or she wishes to buy from your product selection.
Corporate This is for savvy Scouts!  Selling to businesses is a great market to have big sells.  Whether the owner buys popcorn as gifts for their employees, or they allow the popcorn to be sold at the lobby or break room.
If you need more details then just the three steps above, here is a PowerPoint that will help you see how easy it is to get $100 extra per Scout for just sending out 10 emails.  It can really add up if 100% of your Scouts participate!
Tutorial on creation of Online sales – HERE
ONLINE / SHOW & SELL / TAKE ORDER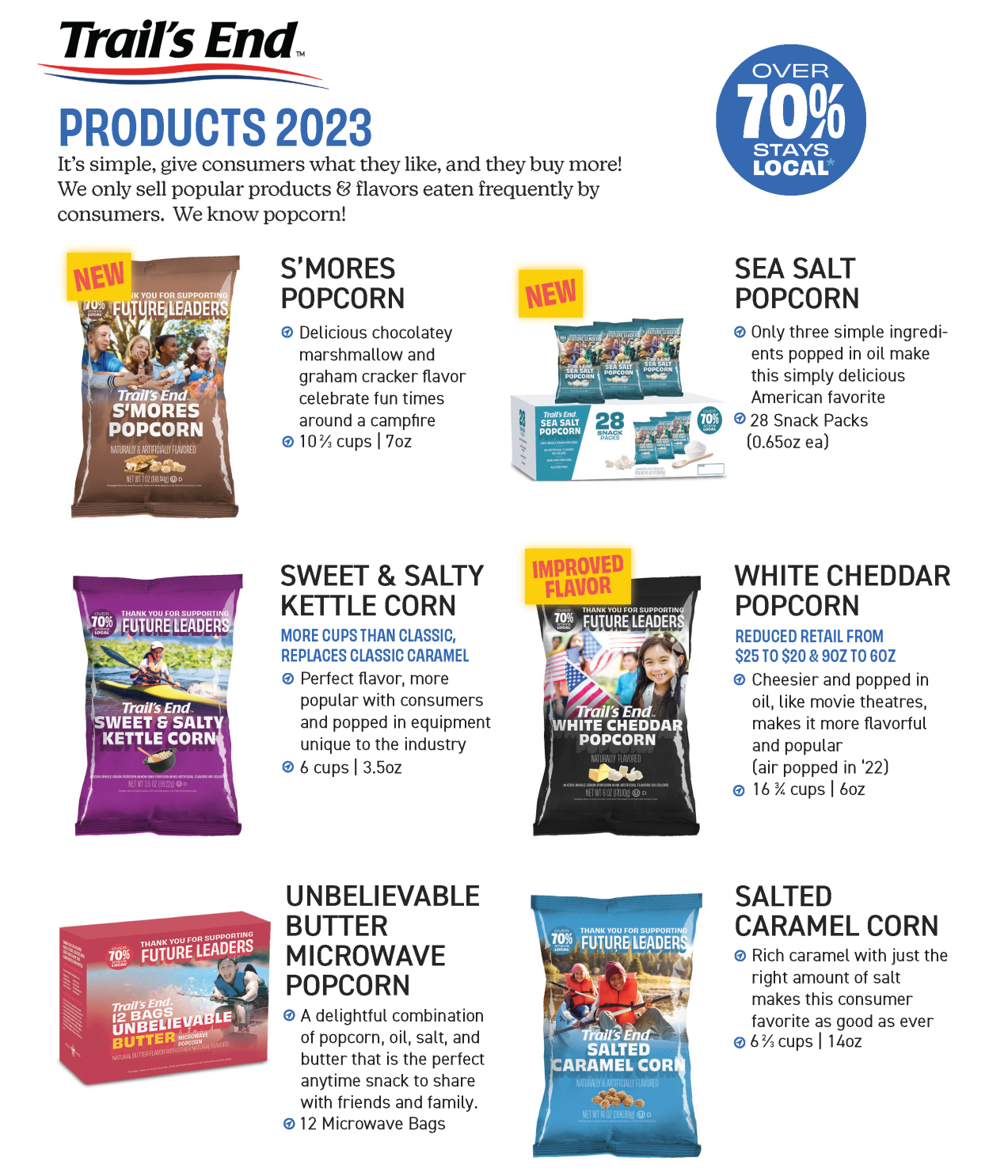 2023 IMPORTANT DATES TO REMEMBER
2023 SVMBC-Popcorn-Guide Dates
June 10 – Council Kickoff and Training for unit Kernels – San Jose/Monterey at 10 am
August 18 – Online orders due
September 7 – First Distribution, ongoing weekly resupplies on Wednesdays
October 18 – Resupply/product return
November 15 – payments due / Online sales scorekeeping ends for prize calculation.
December TBD – Top 100 Club event
What can your unit do?
Register for the popcorn sale at:  2023 Unit Popcorn Commitment
Download the 2023 Unit Popcorn Kernel Guide (Coming Soon)
Sign up for a Trail's End Webinar and join the Trail's End Facebook group.
Attend the District's Popcorn Kickoff  and build your popcorn team.
Complete your unit's program plan for the year. Get the Scouts' input in order to have an ideal year of Scouting.
Set your budget goal by calculating the costs of doing all the activities in your unit's program plan. Unit Budget Planner
Calculate the amount of popcorn you need to sell to meet your budget need.
Break the goal down to an individual Scout (family) goal.
Add Important Dates to your units calendar (example: Popcorn Order Due Dates)
Schedule and plan out your 2023 Unit Kickoff, often the first gathering of the new program year.
Determine the best incentives for your unit that are 

above and beyond

 the council's prize program: top seller prize, pizza party for top selling den/patrol, gift cards for high sales amount, etc.
Create a communication plan to reach all families.
Direct Scout families to www.trails-end.com for additional information about online selling and additional selling tips.
Text APP to 62771 to download the Trail's End App.
Encourage all Scouts to also go door-to-door with a parent.
Coordinate assistance to pick up popcorn at designated warehouse.
Distribute popcorn to Scouts, and ensure deliveries are made to customers.
Pay council invoice(s).
Have a post-sale victory celebration.
90% of all the council popcorn information you will need to know is in the Popcorn Unit Guidebook – HERE
For More Information
Please contact your district kernel, district executive or email popcorn@svmbc.org.