If you are a former Scout, a family member of a Scout (past and present) or a Scouting volunteer, please consider becoming a member of the Scouting Alumni Association – a growing network of people all with whom you already have one thing in common. You'll stay up to speed on what's happening in Scouting and help youth get the most out of what Scouting has to offer.
Want to find out more about mixers and events exclusively for our SVMBC Alumni?
Please contact staff liaise Debra Moreschini at debra.moreschini@scouting.org. to be added to our "interested" list.
Many thanks to our 2019 Alumni Committee Chair, Bill Jennings (DESA), for setting a course for our goals and gatherings.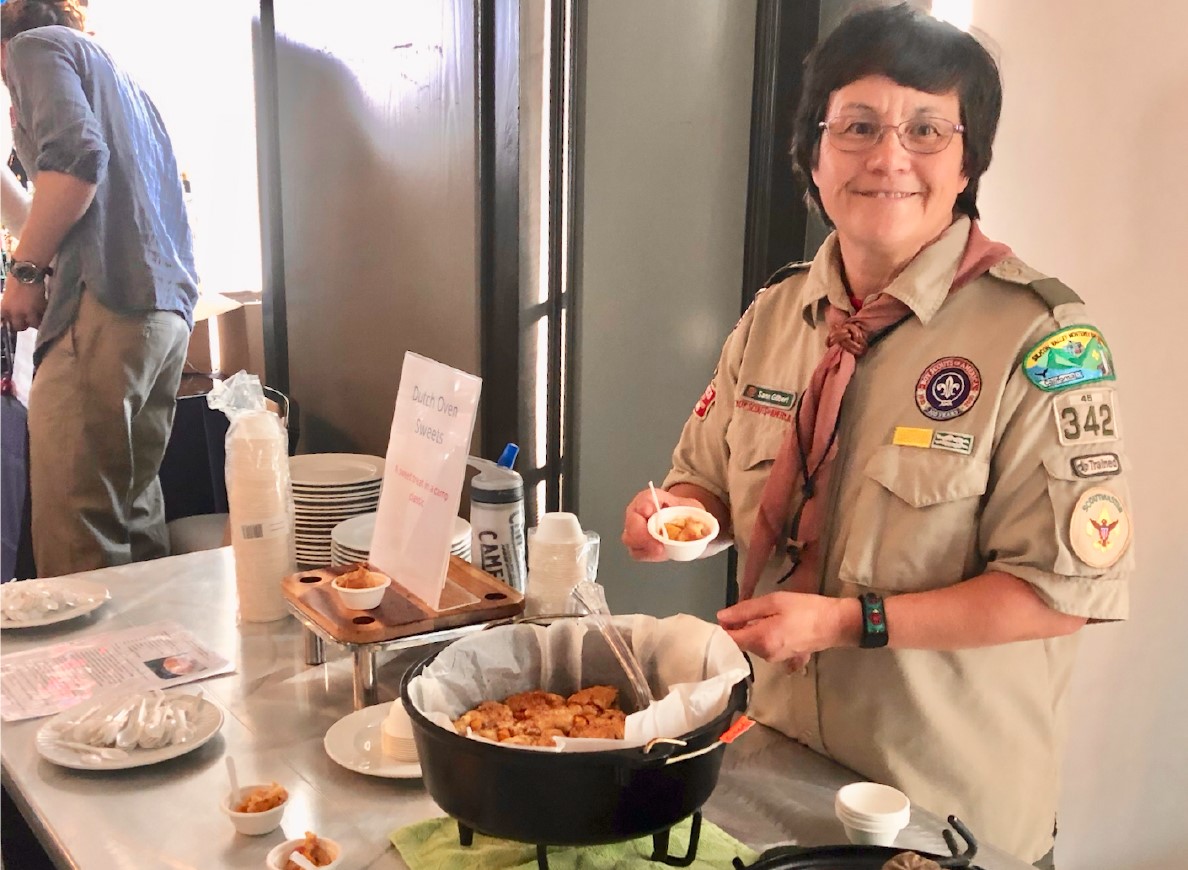 The Silicon Valley Monterey Bay Area Council, Boy Scouts of America is currently accepting applications for a variety of positions. Our council serves area of Santa Clara, Santa Cruz, San Benito and Monterey counties.  Our career opportunities offer independence, achievement, and stability. This is work that makes a difference and offers solid compensation and benefits.
Please send your resume, cover letter and references to: hr@svmbc.org.
We will contact selected applicants for an interview.
Boy Scouts of America is a 501(c)(3) nonprofit organization that provides innovative and culturally relevant services that strengthen and enrich youth, families and the community. Our vision statement is that the Boy Scouts of America will prepare every eligible youth in America to become a responsible, participating citizen and leader who is guided by the Scout Oath and Law.  The mission of the Boy Scouts of America is to prepare young people to make ethical and moral choices over their lifetimes by instilling in them the values of the Scout Oath and Law. Boy Scouts of America has served Monterey County since 1910. For more information on Boy Scouts of America visit: www.scouting.org.
Scouting is a youth-led, youth-run program, but the youth must be trained to be leaders. Adult role models in Scouting provide an ideal learning experience for all youth. Every adult volunteer has something valuable to offer. On a typical weekend campout, Scouts might work with an adult volunteer who teaches the Fishing merit badge and with a Scout mom to learn orienteering, go on a 5-mile hike with another adult leader, and end the day learning how to clean and cook fresh fish from someone else.
The advantages of Scouting are not limited to youth. Adults also develop leadership and physical skills with every training experience.
Volunteers learn, too. Volunteers spend a significant amount of time to ensure the success of Scouting in their communities. The average Scout volunteer gives 20 hours of service each month, and 96 percent of volunteers say they would recommend volunteering for the BSA to other adults. In fact, volunteers believe their time invested with the Boy Scouts of America helps them be:
A better citizen
A better parent
A better manager
A better employee
More patient and tolerant of others
More open to new ideas and opinions
There are many ways that you can help Scouting in your area. Whether you are volunteering directly with Scouts or helping out behind the scenes, you can make an impact on the lives of Scouts by volunteering your time.
Office Support Needed
Silicon Valley Monterey Bay Council is looking for a few volunteers to help in our council office!  Do you have 4 hours you could spare each week? Tasks include mailings, filing, organization.
Please inquire within or email debra.moreschini@scouting.org.
How can you help? Here are a few ideas:
Assisting directly with the Scouts on an ongoing basis
Leader (Cubmaster, Den leader, Scoutmaster, Venturing crew Advisor, STEM Scouts Lab Manager, Explorer Post Advisor)
Assistant leader
Board of review coordinator/member
Court of honor coordinator/member
Helping directly with the Scouts in specific events or activities
Event coordinator/event committee member
Pinewood derby coordinator/committee member
Service project coordinator/committee member
Camping trip participant
Banquet coordinator/committee member
Day camp coordinator/participant
Summer camp coordinator/participant/promotion
Merit badge counselor
Support: Administrative Role
Advancement committee chair/member
Communications committee chair/committee member (Webmaster, PR, newsletter)
Secretary: recordkeeping, activity permits, meeting minutes, annual recharter activities
Treasurer/assistant treasurer
Youth Protection training coordinator
Life to Eagle coordinator
Merit badge coordinator
Support: Other
Chartered organization representative
Friends of Scouting coordinator (fund-raising)
Unit committee chair/member
Unit youth recruiter
Product sales committee coordinator/member
Promoter of district/council events to parents
Religious award committee coordinator/member
Trainer
District/council committee member
Transportation coordinator
Historian
Quartermaster (supplies)
Please contact the Council Service Center at 408.638.8300 for more information on how you can volunteer.
Join the BSA Scouting Alumni & Friends Association
If you are a former Scout, a family member of a Scout (past and present) or a Scouting volunteer, please consider becoming a member of the Scouting Alumni Association – a growing network of people all with whom you already have one thing in common. You'll stay up to speed on what's happening in Scouting and help youth get the most out of what Scouting has to offer.
Enjoy member benefits and support the good work that the BSA continues in its second century. Membership costs vary, with a free tier if you're interested.  A $35 annual membership includes:
Embossed affiliation card, lapel pin, luggage tag and window cling
Quarterly electronic newsletter Alumni Alive! – a popular, convenient update of all the great happenings within Scouting
Cell phone ring tones of 10 bugle calls
Free one-year membership to the National Scouting Museum. This award-winning, world-class museum is located at Philmont Scout Ranch in Cimarron, New Mexico. Membership includes:

Museum online newsletter Bridges & Trails
Free admission for four guests to the museum and Norman Rockwell art gallery
One-time discount on a purchase from BSA Supply Group (scoutstuff.org) online or at your local council service center.
You can register today at Scouting Alumni's website, and begin receiving membership benefits.
SVMBC Alumni Association
Our local alumni association hosts a number of casual, social mixers throughout the year to connect and share news of local Scouting. Check out the calendar section of our website for upcoming events. For more information or to participate on our committee, contact Debra Moreschini at support@svmbc.org
Helping Youth
We are always looking for adult volunteers to help at the district level.  If you are interested in being a mentor for youth either as a leader or as someone that helps out with a Pack, Troop, Venture Crew, STEM Scouts Lab or Career Exploring Post, please contact Eric Tarbox at 831-287-2019 or Eric.Tarbox@scouting.org.
Events
Annually, Silicon Valley Monterey Bay Council puts on a variety of events to raise money for the youth we serve.  If you are interested in helping one of our special event committees – Golf, Sporting Clays, fund raising dinners, or our Holiday Social, please contact us at 408-638-8300 or events@svmbc.org.